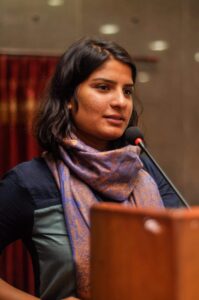 One of the well-known names of the debating community of Nepal, Nishma earned the recognition and position of director after continuous contribution to DNN and the community for past three years. In 2015, she established herself as a rising debater by bagging the trophy in the Nepali category of her first debate tournament, Mahasangram I. Soon after, she started volunteering for the Nepali committee of DNN for expansion and betterment of parliamentary format in Nepali language. This acknowledgement and passion for expanding the parliamentary format debating around the country drove her to be a part of "DebatEast" as a trainer, which also opened the gate for her to work as an intern in DNN in the year 2016.
Her initial work as training and helping with event managements of the organization soon turned into leading such programs. This led to her not only working as a full time working staff of DNN but also a member of executive board of DNN. Her contributions moved on from management of programs to decision making of the organization. In a short span of time, Nishma started looking after the outreach programs of DNN where she managed and organized debate trainings outside the valleys. One of the biggest projects of DNN, "Chal Chamkilo" underwent in her leadership in 2016/2017. Acknowledging this, DNN awarded the "DNN Rockstar" award of 2017/18 to her. Her responsibilities and contributions furthered when she got elected as Managing Director of DNN for the tenure of 2018. She led the DNN office for the year 2018. Now, she serves as a board member in DNN.
As a debater, Nishma has some notable achievements like winning 7th Rotaract Yuva Yug Debate Tournament. She has been finalist of tournaments such as VidhuShe 2018, Debatathon, GIHE Debates. She represented St. Xavier;s College, Matitighar in Eurasian Schools Debating Championship (ESDC) at Istanbul, Turkey in 2016. She also represented Tribhuvan University (TU) in Mexico WUDC (World Universities Debating Championship) 2018. She has a national record of securing highest speaker points in the competition along with her teammate Shripa Pradhan. She also has a national record for breaking in an international British Parliamentary (BP) championship so far. She, along with her teammate Raj Kharel became the pre-semifinalists in the tournament GNLU Debates 2017 held at Gujarat, India. She has also participated in reputed international tournaments like IUB Ascension 2017 in Dhaka, Bangladesh and Bandung UADC (United Asians Debating Championship) 2018.
We have seen Nishma as a prominent female adjudicator in Nepal. Starting her adjudication from Kathamandu Debating Challenge (KDC) 2015 as a finals judge, she has been adjudicating in most of the tournaments held since then. She started her adjcore journey from St. Xavier's Debate Tournament (SXDT) 2016. After this, she has been in the Chief Adjudication Panel of reputed tournaments like, KDC 2016, VidhuShe 2017, Mahakumbha 2017, Chelsea Debate Fest 2018, MahaSangram 2018, Rastra Bahas 2075 and so on. She also represented Nepal as National judge in Stuttgart WSDC (World Schools Debating Championship) 2016. Recently, she was one of the invited judge for Singapore Debate Opens 2018.
A trainer, debater, adjudicator organizer and a leader of DNN, she aims to improve the quality of debating and its reach all over the country. With the aim of making parliamentary debating more accessible to places outside Kathmandu and to women as a tool of empowerment, you will see Nishma working mostly on these areas in the year 2019.
You can reach her at: nishma.gautam11@gmail.com