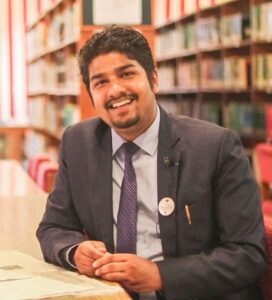 Raj started as a DNN executive in 2015 and went on to being project manager, managing director before serving as the Chair for 2018 tenure. Raj has been a strong pillar in spreading debate movement in Nepal. He started debating in 2014 and has achieved a major height in the community as a debater, trainer and adjudicator. 
He got trained as a debater from KMC SamYuBa and Tarkashala (Batch II). As an adjudicator, his first tournament was MahaKumbha 2014. Though he used to train debaters from St. Xavier's College very early, he formally initiated his career as a trainer from the very first KoseDhunga. After being trained as a debater, he has debated in various national and international platforms. He was one of the finalists in KMC SamYuBa debates and got to debate in Dabali, Basantapur on the occasion of National Heritage Day.
Internationally he got to represent Kathmandu University (KU) in the Global Health Debates (GHD) in Manila, the Philippines. He also holds a national record for Nepal for getting the highest team points in the 36th World Universities Debating Championship Thessaloniki, Greece representing Kathmandu University (KU) together with Pradeep Ghimire. He also broke into the pre-semi finals of the Gujarat National Law University (GNLU – Debates).
As an adjudicator as well, he has a strong profile. He has been a Chief Adjudicator of several national tournaments. Internationally, he has been to Istanbul, Turkey as an institutional coach for St. Xavier's College and adjudicator for the Eurasian Schools Debating Championship 2016. Here, he was successful to be one among the first adjudicators from Nepal, to judge the finals of any international tournament. Besides this, he has judged WSDC 2016 in Germany and IUB Ascension in Dhaka.
As a coach, he has trained numerous debaters for national and international participation. He has been one of the lead trainers for several batches of English and Nepali Tarkashala residential workshop. He coached Nepal's national team for WSDC 2018 where the team was successful to break all previous records made by Nepal by winning 4 debates and 14 ballots and standing 28th among 64 participating nations. He has been the founding president and a regular mentor of debaters from St. Xavier's Debate Club.
Academically, Raj is graduate of Bachelors in Social Work from St. Xavier's College and as such is involved with various NGO's and civil societies.
Reach him at rajkharel4@gmail.com.